The Food & Nutrition Innovation Council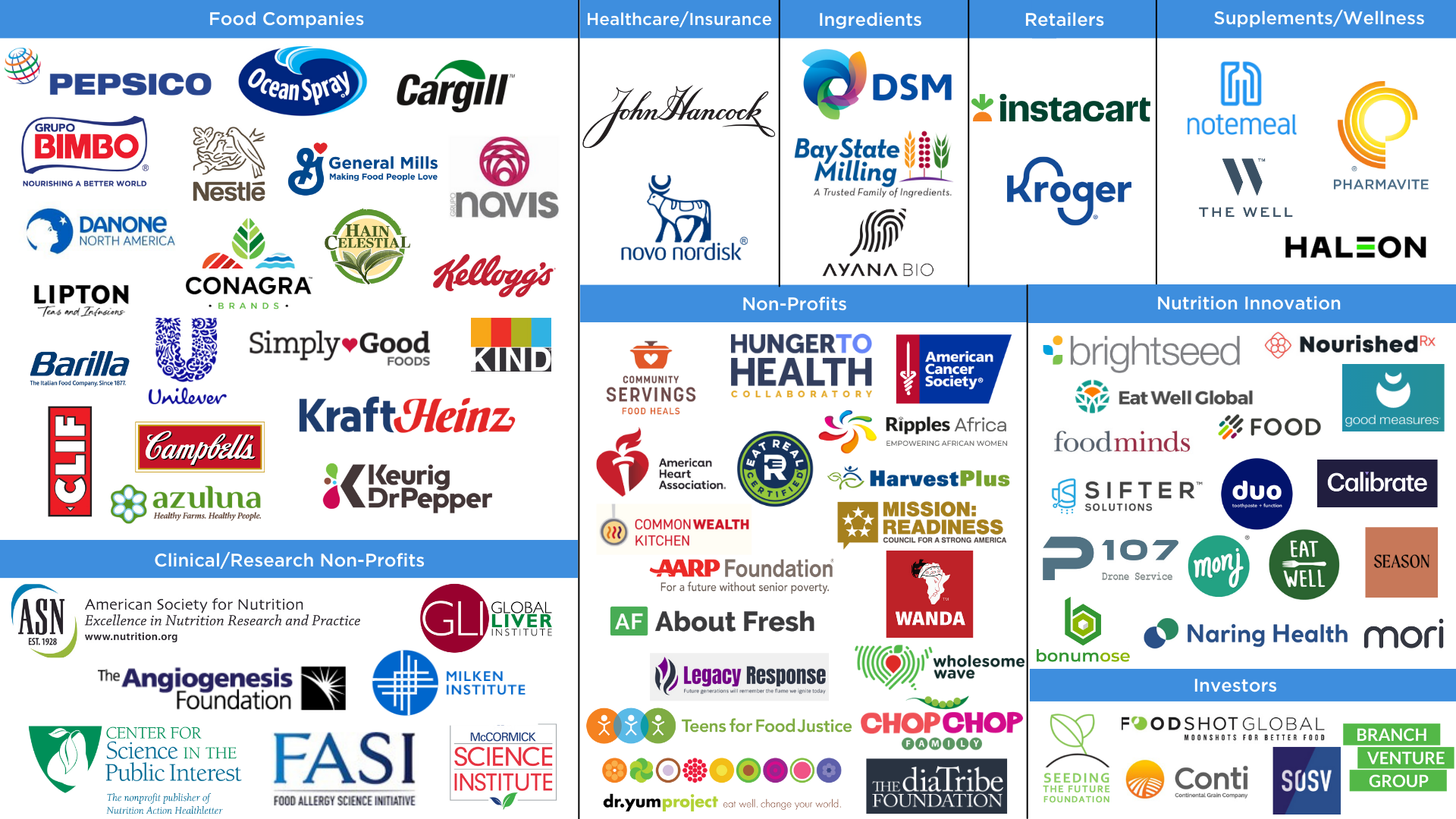 By bringing together diverse stakeholders including established companies and exciting start-ups in healthcare, wellness, food and agriculture, investment funds, nonprofit ventures, and advocacy, we're fulfilling our mission to rethink the global food system. Read more about related activities that many of our council members are a part of. Join us and add your organization to the growing roster of Food and Nutrition Innovation Council members.
Platinum Members
Cargill
John Hancock Life Insurance
Nestlé
PepsiCo
Gold Members
Brightseed
Conagra Brands
Grupo Bimbo
Grupo Navis
Instacart
Kraft Heinz
Novo Nordisk
Ocean Spray
Simply Good Foods
Silver Members
Ayana Bio
Azuluna Foods
Barilla
Bay State Milling Company
Bunomose
Branch Venture Group
Calibrate
Campbell's
Clif Bar & Co.
Conti Ventures
Danone
DSM Nutritional Products, Inc.
Duo Toothpaste
Eat Well Global, Inc
EatWell Meal Kits
FoodMinds
Foodshot Global
Food at Google
General Mills
Good Measures
Hain Celestial Group
Haleon (GSK)
Kellanova
Keurig Dr. Pepper
KIND Snacks
Kroger
Lipton Teas & Infusions
McCormick Science Institute
Monj
Mori
Naring Health
Notemeal
Nourished Rx
P107 Drone Service
Pharmavite
Season Health
Sifter Solutions
SOSV
The Well
Unilever
Nonprofit Members
AARP Foundation
About Fresh
American Cancer Society
American Heart Association
American Society for Nutrition
The Angiogenesis Foundation
Center for Science in the Public Interest
ChopChop Family
CommonWealth Kitchen
Community Servings
The diaTribe Foundation
Dr. Yum Project
Eat REAL
Food Allergy Science Initiative
Global Liver Research Institute
HarvestPlus
Hunger to Health Collaboratory
Legacy Response
Milken Institute
Mission: Readiness
Ripples Foundation
Seeding the Future Foundation
Teens for Food Justice
WANDA: Women Advancing Nutrition Dietetics and Agriculture
Wholesome Wave
Member Opportunities & Benefits
Interested in joining? Let's get in touch!
Contact us to learn more about the benefits of joining the Food & Nutrition Innovation Council
No activities of the Food and Innovation Council shall allow or facilitate any influence over Tufts' research results, patient care or academic programs and neither Tufts' name nor the School's name, nor the activities of the Food and Innovation Council, may be used to promote or endorse members or their products/services. The Council Members will be identified as such on the Friedman School's website and each Council Member may state that it is "a member of the Food and Nutrition Innovation Council." No other statements about the Food and Innovation Council and a Council Member's involvement in the Food and Innovation Council may be made by a Council Member or its affiliates without the prior written approval of Tufts University.